Elouise Interview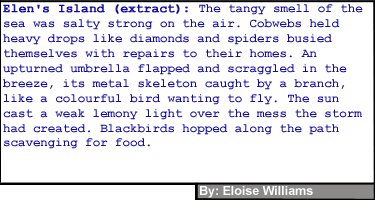 Eloise Williams talks to Paragraph Planet about her novel
Tell me about your novel Elen's Island
When Elen is sent to stay for the summer with her grandmother, she is FURIOUS. Gran lives on a tiny island, she's odd, and she seems to have lots of secrets. She gives Elen a map and tells her to explore. But all Elen finds are mysteries.
It's a book for 7-9's which is (I hope) a magical and fun adventure story.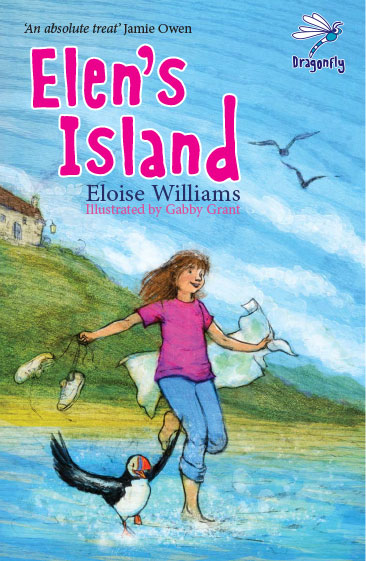 What's your favourite part of the writing process?
I love it all. I believe I was always a writer and got side-tracked for the first 40 ish years of my life so now I've got myself back on track I couldn't be happier.
I love the planning. I have a book on the go but am already making notes on my next three. I love making up the characters and deciding what they like, hate, what's different about them. I know it's a cliche but it really is like living lots of different lives.
How important is setting in your novels?
All my work (so far at least!) is set in Wales. Someone once told me that no-one is interested in reading books that are set here. I haven't found that to be true at all. It doesn't mean that my novels are about Wales necessarily - the events simply take place here. The things that happen to my protagonists are things that young people experience the world over.
Place gives me a background to hang my stories on and there are so many fascinating places in Wales it would be foolish to ignore the things I am surrounded by.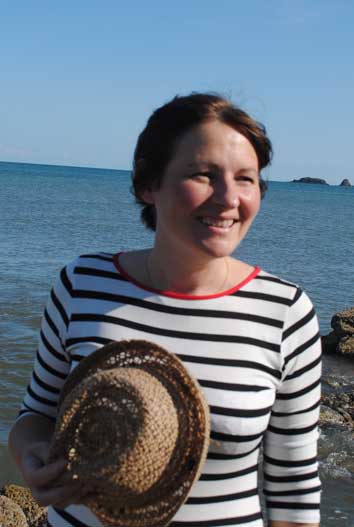 How important is being a good at marketing to the novel process?
I have no idea! I'm learning all the time. And trying all the time. My agent Ben Illis is a Godsend as are Firefly Press. I don't quake at the thought of telling people I've written a book anymore or feel like some sort of arrogant self-absorbed idiot if I confess that I'm an author. It's just a fact.
Local press has done a lot for me. I live in a fairly small community and everyone reads the local paper. So many people have come up to me in the street to tell me how much they've enjoyed my book and I've loved going around the local schools and libraries to tell children about it.
Any tips for aspiring writers?
Write.
If you, like me, are a professional procrastinator, put your laptop or notebook next to your bed and set your alarm to wake up early so that you can write before you get up and notice how much fluff has gathered at the side of the washing-machine, how nice a day it is to go for a REALLY long walk, how that weeding you've been meaning to do is of Triffid proportions. Get an hour done before you decide to spend an hour choosing your 'writing outfit' for the day. Or waste another hour applying your 'writing make-up'. Or procrastinate through another hour while you watch for the postman who is going to bring you a contract for the manuscript you haven't shown to anyone because you haven't yet written it. Don't fall into the trap of sitting with your head in your hands despairing at how you haven't done any writing and it is already time to make an evening meal.
If you, like me, work at something else then set your alarm so you have to write every day before you begin anything else. I give myself deadlines, I have to, or I'd never do anything at all.
What's your next project? Any clues?
I have two YA novels completed. One is a ghost story called Seaglass which is about a girl, Scarlett, who is part of a travelling community and the other I am Peri is a story of a girl on the autistic spectrum who is struggling to get through life in some very difficult circumstances and with the added complication of having a dead best friend who still visits her. They've both been finished recently so haven't been published yet. I'm keeping my fingers firmly crossed!
I've also been extremely fortunate to have been granted a Literature Wales bursary to work on a third YA called Gaslight which is set in Victorian Cardiff and has lots of dastardly doings going on. I guess for clues about my novels after that think Dystopian, think mind games, think amateur detectives. They all have strong female voices (even in Elen which is my only book for that age category) and nearly all are set by the sea. I just can't seem to leave the sea alone!
Visit Eloise's website here and her publisher, Firefly Press here.