Louise Phillips Interview
Louise talks to Paragraph Planet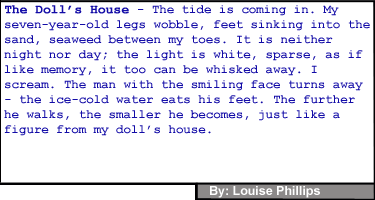 1 - Tell me about 'The Doll's House'
The Doll's House is a psychological crime thriller. When the body of a TV personality, Keith Jenkins, is found stabbed and drowned in a Dublin canal, Dr Kate Pearson, a criminal psychologist is called in to help police profile the killer.
It kicks off from there, with Kate's first question - why bring a stabbed and half dying man to the canal to drown him? Simple - well not quite.
The tag line for The Doll's House is, 'the past is waiting', and there are lots of unanswered questions for the main protagonist, Clodagh Hamilton, who is unaware that the killer has her in his sights.
It deals with psychosis, murder, and hypnotherapy, and as Clodagh regresses to childhood to find answers, instead, she finds lies and deceit which span over thirty years.
2 - How does your writing change over successive drafts?
I learned a long time back that first drafts are simple that, yes, you can create a precious nugget, but by and large most of the words have to be worked and reworked.
So it changes all the time. I usually edit the work from the previous day before I move on. This gets me back into the story, and provides a short, sharp edit on the first draft. When the manuscript is done, I do a couple more edits before submitting it to the publishing house. Invariably, when it's read there with fresh eyes, there are suggestions, and if you respect your editor's experience, which I do, you consider the suggestion and redraft again. Then you go on to what's called the line edit stage, questions are asked about minute facts within the script, like, - you mentioned going to a particular movie in May, but that movie wasn't released in Ireland until June. The final is the copy editing, smaller typos etc. By the end of the process, it is a very different manuscript in many ways, but the main themes, emotions and general soul of the novel remain the same or very similar, but it reads a hell of a lot better!
3 - What's your favourite part of the writing process ?
Probably the beginning, when it's all new, exciting and full of potential. The whole process is interesting, and it has its ups and downs, but if you've done your job well, the end, and by that I mean when it goes to print, is very satisfying.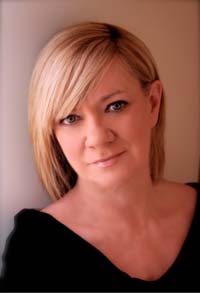 4 - Do you believe in writer's block ?
Not really. But I do think there's such a thing as ideas block. You can have plenty of ideas, however, you have to find one which truly excites you as a writer, otherwise, it's not going to excite the reader either.
5 - Any tips for aspiring writers ?
Stick at it. Believe me, no matter how frustrating it can be at times, especially if you're getting a lot of rejections, (which are part of the writing life), you are doing something quite remarkable. You are creating something new, and that is an amazing thing. It's what keeps most writers going, those who are commercially successful or otherwise.
On a practical level, create your own space for writing at home or wherever. Say to yourself, I'm a writer, and then take steps to protect that craft.
6 - What's your next project ?
I'm already working on my next novel, Last Kiss, another psychological crime thriller. I find I enjoy writing about dark subjects, and humanity on the edge, marginalised or in danger.
After all the publicity for The Doll's House is done and dusted, I'll be back to my desk, just me, my word processor, and hopefully, a lot of imagination!
Louise's website here
New Book Trailer for 'The Doll's House' here