Paul McVeigh Interview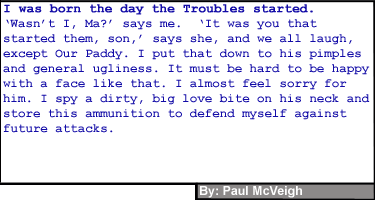 Paul McVeigh talks to Paragraph Planet about his novel The Good Son
The Good Son is set in belfast in 1980 during the height of The Troubles. It's the story of a little boy who will do whatever it takes to protect his little sister and his mum from the dangers of the harsh environment of the streets and in their home. He's a quirky, funny, imaginative little soul who tries desperately to hang on to his view of the world based on his love of TV and films as he battles daily with a world that is in stark contrast to his inner thoughts.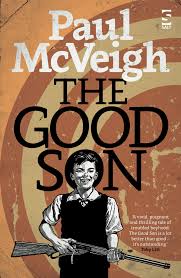 How did the novel change over successive drafts?
The novel changed quite dramatically. I started writing a novel with no experience and little knowledge of writing prose. I was happy with the result. The more I read and understood about the form I realised I'd written a series of short stories about the same character and decided to re-write it as a novel concentrating on cause and effect.
The final draft was a huge re-write. I cut out a few characters, one who was central to the plot. The second half of the book is completely different with a very different ending.
What's your favourite part of the writing process?
I love when you're 'in the zone'. When you aren't really writing but letting a character take over and the words are flying out of you without thought.
How important is a digital presence for a writer?
I think you chose your path. Do what's right for you. It was an organic thing for me. I started a blog and an online presence when I started back writing after a long break. The two went hand in hand. It has been beneficial to me and comes easily and for the most part I find it pleasurable. It has gotten me jobs, opportunities to read at events and on radio and led to invites abroad. It has also helped with getting my novel some attention.
Which authors have influenced your own writing?
Most are from my youth and have stayed with me. Hemingway, Henry Miller, Anais Nin... Can't say whether you can see any of those in my writing.
Photo of Paul by Roelof Bakker
BIO
Paul McVeigh was born in Belfast where he began his writing career in theatre. He moved to London where he wrote comedy shows, some of which appeared in London's West End. Since turning to prose, his short fiction has been published in journals and anthologies, been commissioned by BBC Radio 4 and read on BBC Radio 5. Paul is co-founder and Director of London Short Story Festival and Associate Director at Word Factory, the UK's leading short story salon.
His debut novel The Good Son was published in April 2015 and has been called 'Outstanding' by Toby Litt and 'A work of genus' by Pulitzer Prize-winner Robert Olen Butler.
Paul's blog where he posts on writing opportunities is here and you can find out more about Paul as a writer here.
Paragraph Planet is a creative writing website which has been publishing one 75-word paragraph every day since November 2008. Famous authors, aspiring writers and occasional dabblers have all got involved, submitting a mixture of twist-in-the-tale flash fiction, evocative short, short fiction, openings of published novels or brief moments captured. Get involved here. You can read over 2000 examples in the archive section. There are also interviews with some of the published authors who have submitted to the site, as well as an authors page in which you can read an example paragraph from all authors who've submitted, and also link to dedicated pages with more info about regular contributors. There's also a Blog Directory of authors who've contributed to the site.